5S IN 2022: WORKING SMART, SAFE AND EFFICIENT
Embracing the 5S methodology provides companies with many benefits. Benefits that, in today's market, make the difference between a stable, productive organization and a company that faces recurring struggles every day.
A shortage of personnel or a high turnover in employees. Too much or too little stock of - increasingly expensive - materials. An unsafe, cluttered work environment. These often recognizable issues have a direct impact on the productivity and efficiency of your organization. The 5S method redesigns your way of working. The result is a safe, pleasant, tidy workplace, with minimal waste and maximum efficiency. Here's why your business will need 5S more than ever in 2022.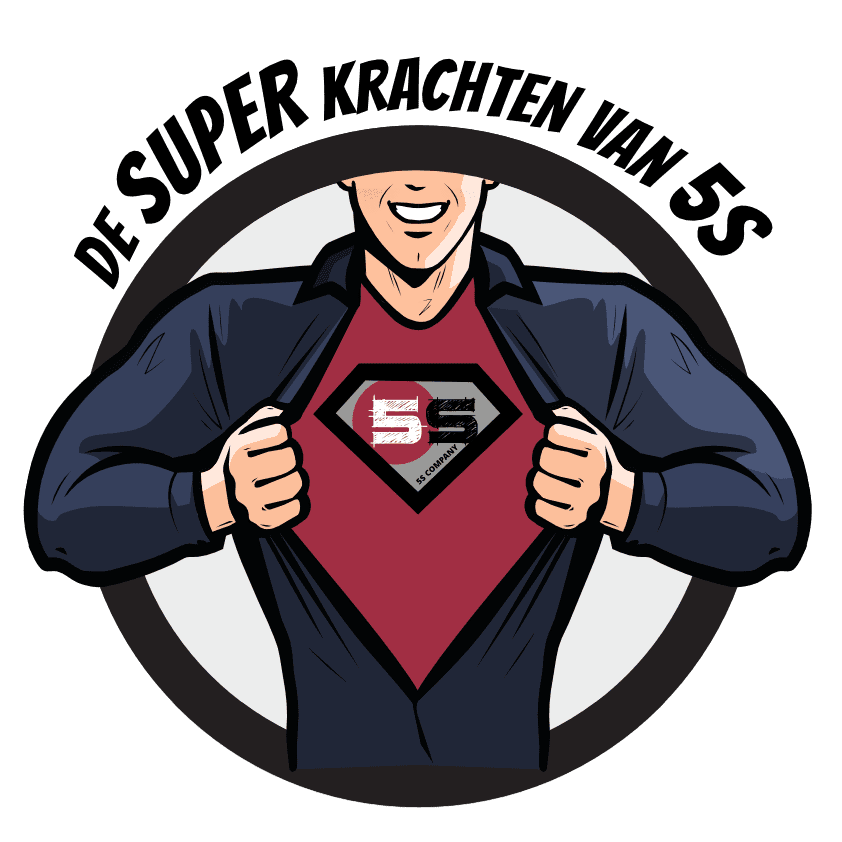 UNLEASH THE 5S SUPERPOWERS
5S is the starting point for companies that want to get more out of existing resources and processes. By optimizing day-to-day operations, 5S contributes to a dramatic increase in efficiency, workplace safety and job satisfaction, while at the same time significantly reducing waste - of materials and hours. The result? A strong, productive and sustainable organization that does more with the same resources.
A HARD TIME FILLING VACANCIES? GET THE JOB DONE
Companies face major challenges due to the current situation on the job market. Finding and keeping (qualified) staff is often a struggle, especially within the production industry. The result is that efficiency and productivity do not always meet the company's objectives. The 5S method makes the difference in a tight and competitive job market. Because why should you look for new personnel, if you can make existing employees work better, safer and smarter?
Effective working starts from the inside out. If you embrace the 5S vision and integrate it well within existing processes, it turns out that you can do more work with the same hands. Purely by training in efficiency. Small adjustments in thinking and acting provide a large (time) profit. Just think of a tidy, clean workplace, allowing employees to work faster and more safely.
MAXIMIZING THE USE OF PEOPLE AND MATERIALS
5S is all about breaking down the 'hidden factory' within your organization. In the right way. The less your people are occupied with things that inhibit productivity, the greater the job satisfaction, work safety and margins. Within the 5S methodology, the focus is on preventing and reducing waste - of time and materials. An effective solution to control and optimize capacity and costs. Maximum results through maximum use of people and materials.
HOW 5S HELPS IDENTIFYING INEFFICIENCIES


Designing effective work processes


By developing standardized work processes, primarily with an eye toward ergonomics and workplace cleanliness, you get more out of people and resources.
Reducing waste


The cost of materials is rising. Companies that don't implement 5S have been shown to have higher costs due to overproduction, overstaffing and overstocking. 5S Lean is specifically designed to prevent overspending on company resources.
An increase in productivity


The effect of working efficiently and successfully reducing waste provides an increase in productivity. This means that within a tight labor market, you do not need to look for more staff, but rather invest in retaining and training the existing workforce.
Realizing a safe workplace


Another advantage of the 5S implementation is an increase in safety on the workfloor. A well-organized, tidy workplace reduces the risk of (work) accidents.
Making work more enjoyable


By stabilizing work processes and training your people, working becomes more enjoyable. Equipment and tools are always where they belong and agreements are clear to everyone. Every workplace is a safe and tidy domain where people don't work harder, but smarter.
MEASURING WASTE AND PERMANENT OPTIMIZATION
5S Company takes care of the entire implementation of 5S. From analysis and implementation to aftercare. Various essential steps are taken to ensure that the 5S approach fits in with the specific challenges of each work environment. For example, measuring waste of materials, time and productivity during a 5S audit. Based on this measurement, the status of the workstations is determined.

After the implementation of 5S, the further optimization of workplace organization begins. CI Company, partner of 5S Company, supports companies in further eliminating waste and connecting integral business activities to continuous change. By strengthening the flexibility of organizations with the help of programs such as Training Within Industry and Kaizen, companies invest in an improvement driven culture that makes it possible to keep up with important challenges such as responding to changing customer demand, technical possibilities and legal requirements within your sector. CI Company, partner van 5S Company, ondersteunt bedrijven bij het verder elimineren van verspilling en het laten aansluiten van integrale bedrijfsactiviteiten op continue veranderingen. Door de flexibiliteit van organisaties te versterken met behulp van programma's als Training Within Industry en Kaizen investeren bedrijven in een verbetercultuur die het mogelijk maakt blijvend mee te bewegen met belangrijke uitdagingen als een veranderende klantvraag, technische mogelijkheden en wettelijke eisen binnen uw sector.

WE'RE HERE TO OFFER YOU A FLYING START 
Do you want to implement 5S in your company? 5S Company provides programs and training for 5S introduction and activation. Companies receive professional support and coaching during the entire process and have access to all the tools of 5S Company. Please contact our specialists for more information. contact op met onze specialisten.